It is important to know the steps you need to take to file a personal injury lawsuit and the process that unfolds. The process and procedures of a personal injury lawsuit are complex and require a lot of documentation, so it is important and beneficial to have a lawyer. Our personal injury lawyer in Mineola, NY can answer any questions you may have. Your attorney will help guide you through all the steps during your injury case and will, for the most part, be handling all the documentation and preparation for the case. Here are the steps you need to take in filing your claim:
Step 1 Filing Summons and Complaint:
The first document you will file in your injury lawsuit is called the complaint. The complaint will include information on who is involved, legal claims, and facts regarding the case. There is also a section in the complaint regarding what the plaintiff or the person filing wants out of the lawsuit, usually its compensation or charges pressed against the defendant. The last document is the summons, which will let the defendant know they are being sued. Filing the summons and complaint must be accomplished with the court.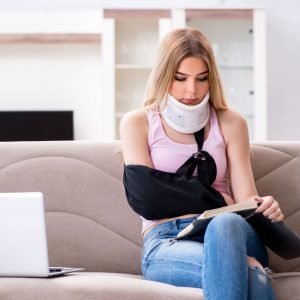 Step 2 Answer:
After the Summons and Complaints are filed, they are sent out to the defendant to let them know they are being sued. The defendant has an allotted amount of time to respond and answer the complaint. They have to answer by either admitting or denying the allegation brought against them in the complaint.
Step 3 Discover:
After all documents are answered and obtained, the next step is collecting evidence from bothering parties for the case. Both parties also have to have access to all information found regarding the case, but they have to request the information or evidence.
Step 4 PreTrial Negotiations:
Having a case go to trial can be expensive as well as time-consuming since they can be dragged out. So in some cases, lawyers can negotiate on behalf of the client to try and get a settlement without trial. If negotiation is difficult, they can also bring in a mediator, meaning a third party helps resolve the dispute to avoid trial. Another form of negotiation is arbitration, which brings in a third party to resolve the dispute almost like a mini-trial. However, if you agree to arbitration, you usually can't appeal the arbitrator's ruling over the case.
Step 5 Trial:
If you are unable to reach your settlement in the pre-trial phase of the process and mediation or arbitration was not an outlet you wanted to take, you will be taking your case to trial. This can be an expensive and drawn-out process, but your lawyer is there to support you and fight for you to get the compensation you deserve. Your trial will be examined by either a judge, jury, or both in some cases. They will listen and examine all evidence and proceedings, and then at the end, deliberations will occur to then come to a verdict.
Step 6 Collecting the Judgement:
If the verdict is in your favor as the plaintiff, you will now be getting the compensation you made clear you wanted in the complaint documents filed in step one. However, there can be an issue of the defendant not paying the "judgment" or the amount they owe you as the defendant. If this happens, you will have to apply more legal efforts in obtaining your compensation, and more legal expenses will likely occur in doing so.
Step 7 Appeals:
Worst-case scenario, you do not get the verdict you were expecting or hoping for, and now you will have to move into the appeals process. You and your lawyer will have to submit an appeal to an appellate court and move into review for a new trial in hopes of getting the decision you want. This is another good reason you should utilize expert attorneys to have a knowledgeable and experienced attorney arguing in your favor so that you hopefully don't need to file an appeal.
Personal Injury Lawyer in Mineola, NY
Tannenbaum, Bellantone, & Silver PC. expert personal injury lawyer in Mineola, NY, is here to help you during this stressful time by fighting on your behalf for the compensation and justice you deserve. To find out more about our injury services, click here!